Flat Panel Pre-Aligner
This remote measurement unit, comprising with three CCDs (Charge Coupled Devices), is designed to work with flat panel handling robots in order to determinate the position and orientation of a flat panel. The last moves of the flat panel inside the CCD-area and the misalignment of the flat panel are immediately calculated based on the CCD readings. The compensation of the misalignment can be accomplished during the transportation of the object to the target cassette or process station.
Specification:
Works with
Flat panels
Wafer size
- Min panel size : 125 mm x 125mm
- Max panel size : not restricted
Alignment Accuracy
Center Offset
0.0015"
Angular Offset
0.1 degrees
Alignment time
3 sec
Initial Offset Allowance
0.5"
Servo Light-house Gap
0.35", 0.5"
Maximum Vertical Velocity
20"/s
Maximum Vertical Acceleration
40"/s2
Physical Properties
Vertical travel-body height
8.5" - 14"
13"- 18.5"
16" – 25.35"
Length
12.8"
Width
4.4"
Standards Compliance
Applicable Directives/Standards
Machine Directive 89/392/EEC
Low Voltage Directive 73/23/EEC
89/336/EEC (EMC)
SEMI S2-93A
Standards to Verify Compliance
EN 60204- 1:1997
EN ISO 12100- 2:2003
RIA R15.06:1999
Reliability
Reliability per SEMI E10 / MCBF
>20M
Fine-Alignment Flat Panel Pre-Aligner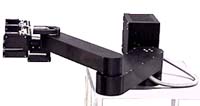 This measurement unit consists of two single degree of freedom robotic arms that carry CCD cameras. It works in a combination with flat panel handling robots in order to position the flat panel inside the CCD area with high degree of accuracy (±0.001"). The CCD area is adjustable and it allows for alignment of a wide range of flat panels. After the alignment both CCD arms retract to clear the alignment area for further manipulation of the flat panel.
Alignment time < 5.0 seconds
Alignment accuracy - X, Y ±0.002"
O ±0.125° Capture range / initial offset allowance ± 0.500"
Substrate sizes: 20mm x 340mm, 360mm x 450mm, 500mm x 500mm, 600mm x 600mm, 650mm x 700mm, 760mm x 760mm