About Genmark Automation
Genmark Automation Today
Genmark Automation, Inc., designs, develops and manufactures high precision robotics,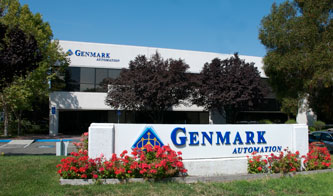 motion control and integrated tool automation solutions for the global semiconductor, data storage and flat panel display industries, and is a leading OEM supplier of atmospheric and vacuum transfer robots and peripheral equipment.
Genmark Automation's solutions are designed to optimize equipment and factory productivity. These solutions include complete semiconductor wafer handling systems and integration software, offering high-performance and reliability for OEM process tool manufactures, allowing them to focus on developing next generation process technology. Genmark Automation sells and supports their products through a global sales and support infrastructure operating out of offices in USA, Germany, Israel, China, Taiwan, Singapore, Japan and Korea.
Research and Development
Genmark Automation's hardware and software products, ranging from tool automation modules and associated controls to complete integration solutions, are designed to work together efficiently, and support industry standards. Genmark Automation's products, whose primary advantages - high throughput, advanced technology, flexible design, high MTBF numbers, and an excellent technical support record - are a direct result of Genmark Automation's commitment to R&D, and best in the industry reliability and serviceability. Genmark Automation's US patents (issued and pending) include those covering atmospheric robots, vacuum robots, end-effector, robotic arms, and integration software. Additionally, Genmark Automation has several patents issued or pending in Europe, Japan, Taiwan and Korea.