ECS300 Automation
Software Suite
The ECS300 Automation Software Suite is a set of software components, tools and techniques used for rapid development of equipment automation applications. It offers off-the-shelf factory host-computer interface, which is compliant with all related SEMI standards. The product features advanced user interface, broad range of supported automation hardware and presets for many 300mm semiconductor factories.
The ECS300 is highly customizable application utilizing modern software technologies such as .NET, XML and XSLT. It lets you integrate your own process modules, embed application specific plugins for process monitoring or recipe editing, or configure tool specific wafer scheduling. High-level system functions and objects are easily available through .NET-remoting and COM (legacy support).
The ECS300 has unique features such as:
Flexible packaging for final deployment
Ready to use device control library
Hardware simulation
Adjustable behavior
Automatic generation of GEM-related reference documents
Performance monitoring
Enhanced maintenance routines and custom sequences
Handy and ergonomic UI
SEMI Interface-A standards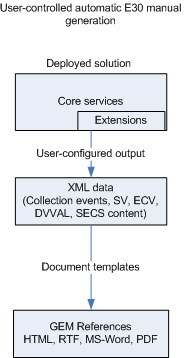 A new application design begins with specification of the hardware device configuration using the Tool Builder. You can select from various models and specify an arbitrary set of load ports, robots, pre-aligners, carrier and wafer ID readers, E84 interfaces and mini-environment controllers. The custom process modules are defined along with their GEM specific alarms, events, variables and constants.
The next step is implementation of a programmatic interface between the ECS300 and your process control software. Genmark Automation provides examples in .NET and COM to smooth the integration effort.
The Tool Builder offers a visual user interface configuration, which lets you select the views required by the application. At this point you can specify Windows Forms .NET or ActiveX control that needs to be integrated. The final step is customization of the wafer-scheduling algorithm. The rules for the wafer transport between different equipment locations can be modified by using well-defined XML rules.
Architecture
The solution is based on a structure of small interconnected libraries that are streamlined by a Windows executable application called Builder. Each library has its own tasks and the distribution of functionality among libraries is based on distinctive features like process management, automated job execution, device control, etc. Depending on your needs we provide several Builder editions – Small, Standard, Full and Ultimate. Editions incorporate different features and extent of functionality. This allows you to choose the "feature versus cost" ratio of the application you need. The basic building blocks are the supported device set, communication models, local and SEMI-based services. The core may be significantly extended by plug-in libraries in order to achieve flexible behavior.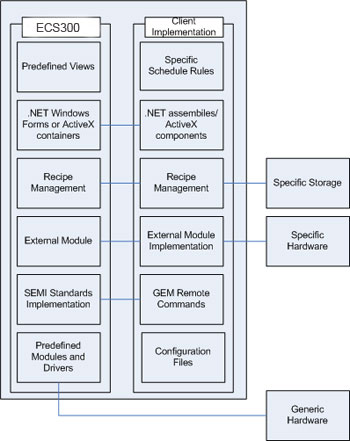 Integration process
Integration starts with evaluation of automation requirements for the semiconductor manufacturing tool. All the requirements that cover device control, user interface, SEMI-based factory services and advanced process control are gathered and analyzed by our software engineering team. We provide for you the level and volume of the integration effort and available options. In 90% of the cases integration can be done by configuration of the control application and by producing a small software "adapter" to already existing process control software. This leads to reduced cost and integration time. You do not need to change your existing architecture and software – all capabilities of the process module can be easily conveyed to the operator and factory host systems.
Flexibility
All features related to UI behavior and layouts, recipe and process control, automated job execution and factory communication are flexible enough to support broad set of requirements. The framework is based on open model by exposing lot of functional "extension points" – these allow to expand or even create new model of functionality depending on your needs.
Custom features can be exposed by UI views that are not part of the regular solution. The core can instantiate .NET Windows Forms or ActiveX controls (legacy support) that are configured where and how to appear in the control application.
The material scheduler is intelligent subsystem that can be tuned to the tool layout and capabilities. It allows operator to select predefined material travel "path" and optimization scenarios.
Process modules can be composed of different subsystems with well-established capabilities and control model. The advanced process control allows management of complex recipes tied to the devices specifics to ensure effective manufacturing tuning and flexibility.
All recovery actions and scenarios can be configured depending on the tool internal safe-guard conditions and factory requirements.
Advanced Testing
Application compliance with the SEMI standards is qualified using well-adopted verification and test solutions. The built-in simulation mode allows the execution of regression tests without the need of a real hardware. In addition to the factory host communication standards, the ECS300 employs its own "virtual-EFEM" technology to accommodate simulators for all supported devices. Using this approach we can guarantee 99% compatibility with the controlled hardware even before final integration tests.