Contact Genmark Automation
Contact Genmark | Driving Directions
Directions and Maps
GENMARK AUTOMATION Inc.
Headquarters
1201 Cadillac Court
Milpitas, CA. 95035, U.S.A.
Tel: (408) 678-8500
FAX: (408) 942-7561
Office hours from 8:00 A.M. to 5:00 P.M. Pacific Time
Directions from San Jose International Airport to Genmark in Milpitas.
Exit San Jose Int. Airport taking Airport Pkwy
Turn right at the 101 south entrance
Take 101 South
Take 880 North
After about 7 miles, move to the right hand lanes and take the Dixon Landing Road East Exit
Turn right at the light onto California Circle
Turn right onto Cadillac Court
Genmark's address is 1201 Cadillac Court
Directions from San Francisco Airport to Genmark in Milpitas.
Take 101 South (San Jose)
Take the 237 exit towards Milpitas
Take 880 north - while on 237, remain in the left lanes and take the off-ramp to 880 North
Move to the right hand lanes and take the Dixon Landing Road East Exit
Turn right at the light onto California Circle
Turn right onto Cadillac Court
Genmark's address is 1201 Cadillac Court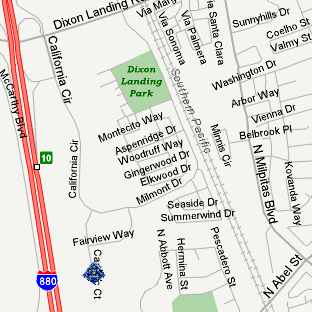 GENMARK AUTOMATION Inc.
East Coast Office, USA
54 Middlesex Turnpike
Bedford, MA. 01730, USA
Phone: (781) 276-1515
Fax: (781) 276-1516
Driving Directions from Logan Int'l Airport (Boston)
Start out going Southeast on LOGAN INT'L AIRPORT ACC towards AIRPORT EXIT/CENTRAL PARKING by turning right. 0.26 miles (0.42 Km)
Turn SLIGHT RIGHT onto TERMINAL ACC. 0.42 miles (0.67 Km)
Stay straight to go onto AIRPORT EXIT. 0.91 miles (1.46 Km)
Turn SLIGHT LEFT to take the RT-1A SOUTH ramp towards SUMNER TUNNEL (I-93)/BOSTON. 0.12 miles
Merge onto MA-1A S/WILLIAM F MCCLELLAN HWY. 0.44 miles (0.70 Km)
MA-1A S/WILLIAM F MCCLELLAN HWY becomes MA-1A S/SUMNER TUNNEL/WILLIAM F MCCLELLAN HWY. 1.06 miles (1.71 Km)
MA-1A S/SUMNER TUNNEL/WILLIAM F MCCLELLAN HWY becomes MA-1A S/WILLIAM F MCCLELLAN HWY. 0.02 miles (0.04 Km)
Take the I-93 NORTH/US-1 NORTH/RT-3 NORTH ramp. 0.12 miles (0.20 Km)
Merge onto US-1 N/CENTRAL ARTERY/FITZGERALD EXWY. 0.39 miles (0.63 Km)
US-1 N/CENTRAL ARTERY/FITZGERALD EXWY becomes US-1 N/I-93 N. 0.35 miles (0.57 Km)
Take I-93 N towards CONCORD NH. 0.11 miles (0.17 Km)
Merge onto I-93 N. 9.87 miles (15.88 Km)
Take the I-95 SOUTH/RT-128 SOUTH exit, exit number 37B, towards WALTHAM. 0.32 miles (0.51 Km)
Merge onto I-95 S/MA-128 S. 3.96 miles (6.37 Km)
I-95 S/MA-128 S becomes I-95 S/MA-128 S/US-3 N. 1.16 miles (1.86 Km)
Take the US-3 NORTH/MIDDLESEX TPK exit, exit number 32B-A, towards LOWELL. 0.14 miles (0.22 Km)
Keep RIGHT at the fork in the ramp. 0.16 miles (0.26 Km)
Keep RIGHT at the fork in the ramp. 0.05 miles (0.08 Km)
Merge onto MIDDLESEX TURNPIKE. 2.30 miles (3.70 Km)